Bi-Monthly: Cape May Elementary School, Maude Abrams Elementary School, Sandman Consolidated School
Kiwanis Kids, with more than 36,000 members, is a service leadership program for primary school students. K-Kids provides students with opportunities to work together on service projects, develop leadership potential and create strong moral character. K-Kids is a "student-led" community-service organization, which operates under school regulations and draws its members from the student body. K-Kids are currently raising funds for The Eliminate Project, a joint effort of the Kiwanis family and UNICEF to eliminate maternal and neonatal tetanus from the face of the Earth, especially through Trick-or-Treat for UNICEF.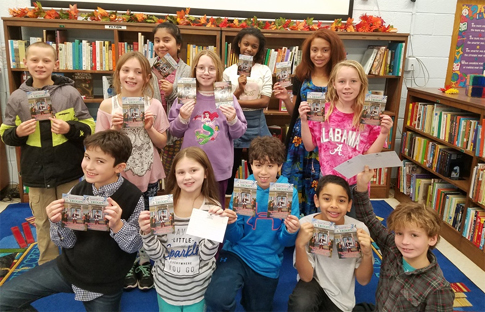 2017 Cape May Kiwanis Club K-Kids Card Project
The K-Kids at Cape May City Elementary School (CMCE) with the Kiwanis Club of Cape May K-Kids Advisor, Michele Bennett along with Megan Reed, faculty support, wrote out Holiday wishes and encouragement for Coast Guard recruits. The K-Kids enjoyed the activity and the time spent for the recruits who will not be home for the holidays. The K-Kids at CMCE have been listed as a Distinguished Club the past 2 years by KI for their service projects. Many of the students in Cape May are from the Coast Guard base. Cape May County, a Coast Guard Community, is an honor claimed by only 18 cities and one other county in the nation. The designation, which is confirmed by the United States Congress and United States Coast Guard, is recognition of a strong and special relationship between the people of Cape May County and local Coast Guard personnel.
2017 Earth Day for K Kids
The Kiwanis K Kids made bird feeders for Earth Day. Teachers Terry Morris and Eileen Oleksiak-Hall guided the children along with Kiwanis members Paulette Platukis and Eileen Kreszswick. The third and fourth grade students in the K Kids club are pictured here with their feeders ready to hang and welcome their fluffy and colorful bird friends to their backyards. What a great project!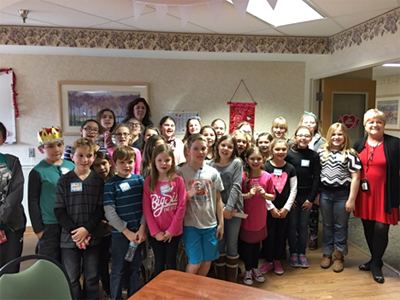 2017 Valentines for Residents at Genesis, North Cape May
The Maud Abrams Elementary School Kiwanis K Kids decorated and distributed Valentines to residents at the Genesis Center in North Cape May. The third and fourth grade students in the K Kids club are pictured here with their Kiwanis K-Kids Club Leaders and teachers, Terry Morris and Eileen Oleksiak-Hall. The students visited and played bingo with the residents.
The Kiwanis Club of Cape May sponsors K-Kids at Cape May Elementary School and Maud Abrams Elementary School. K-Kids is the service component of the Kiwanis Kids program. K-Kids clubs provide elementary school students with their first opportunity to learn about organizing projects that help others.