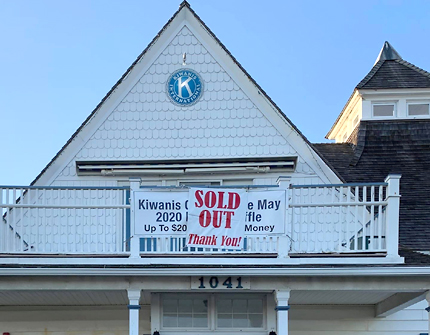 Limited 50/50 Raffle - Sold Out!
Location: Kiwanis Clubhouse on Beach Avenue
Drawing: September 30, 2020 at 7:00 PM
Top Prize:. Bill M. Ticket #103


2nd: Dayna M. Ticket #325


3rd: Marco G. Ticket #44
4th:. Audrey H. Ticket #238


5th: Ed R. Ticket #110
The Kiwanis Club of Cape May serves the children and our community and last year we contributed $40,000 for scholarships to local high school students and service youth programs.
Thank you for supporting our new fundraiser! Due to COVID-19, we had to cancel our largest fundraiser, the annual car raffle. This year, The Kiwanis Club of Cape May offered a limited 50/50 raffle. The Kiwanis Club sold 400 tickets, allowing for $20,000 in prize money for 5 winners, at the percentages noted on the face of the ticket. Purchase price was $100 per ticket.
$100 per ticket

1st Prize $13,340


66.7% of total prize money



2nd Prize $4,000


20% of total prize money



3rd Prize $1,340


6.7% of total prize money

4th Prize $920


4.6% of total prize money



5th Prize $400


2% of total prize money



License # RL2020-7 | Identification # 70-8-23643
Additional Information:
Drawing limited to 400 tickets and prize amounts are contingent on the sale of all tickets.

No substitute of prizes will be made. Winner need not be present.

Jim Fratz, jfraatz@comcast.net | Kim Ford, 609-972-6710, kimncm@comcast.net | Jeff D'Aoust 215-208-8567 Jeffreydaoust@gmail.com