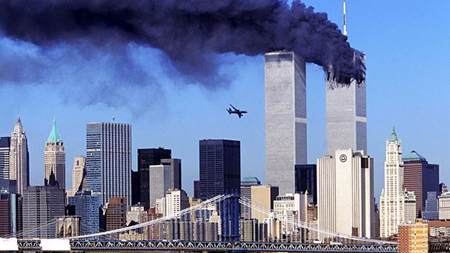 9/11 Patriot Day Ceremony
Date/Time: September 11, 2017 ~ Begins Promptly at 6:15PM
Location: Cape May City at the Cove on Beach Avenue
The Kiwanis Club of Cape May in conjunction with the City of Cape May honors the nearly 3,000 lives lost in the 2001 attacks on the World Trade Center , the Pentagon and aboard Flight 93. The PATRIOT DAY commemoration ceremony held at Beach Avenue at the Cove is a solemn and moving ceremony with speakers from local organizations along with community leaders who remind us of the sacrifice of Police, Fire and Emergency Medical technicians who valiantly struggled that day to save lives. There is a moment of silence as the flag is lowered. An event not to miss!
History of the Flag Lowering Ceremony and Patriot Day Remembrance for September 11
Every evening from Memorial Day through September 11th Kiwanians gather together a small group of young people to join them in lowering the flag at day's end. They teach the children flag etiquette and how to properly fold it into its traditional triangular shape. Each participant receives a certificate signed by the Cape May City Mayor proclaiming their participation and an American Flag lapel pin. Many take their certificates to school for show-and-tell about their summer vacations. This tradition is the brainchild of Kiwanian Robert Elwell, former Mayor of Cape May, a Cape May lifeguard, and life-long fire fighter. Bob was the driving force behind the building of the pavilion. September 11 denotes the last day of the summer season for the flag lowering ceremony until next year.
Vince Panzano, the USS Quincy (CA-71) D-Day June 6, 1944, the Battle of Okinawa, and the Surrender of Japan
In the history of the flag ceremony, we include the late Vince Panzano, a devoted Kiwanian in our community. Vince served as a second class pharmacist's mate for 26 months aboard the USS Quincy (CA-71) — a heavy cruiser. Vince and the Quincy were everywhere in the action during WWII. They bombarded enemy-held territory in both the European and Pacific War zones. They saw action in the Normandy invasion at Utah Beach on June 6, 1944 in support of troops in southern France. They were involved in the Battle of Okinawa, fought their way across the Pacific, and entered Tokyo Bay for the surrender of Japan. Mr. Panzano and fellow crew members were awarded four Bronze Stars and the Victory Medal for their service. Vince Panzano was the one of the "Greatest Generation" who fought for our country.
Vince was an active Kiwanian and adopted our sunset flag ceremony as his favorite project. He participated almost every night throughout the summer months for many years. Even when he became wheelchair bound he would appear at sunset to make sure the ceremonies went off without a hitch. Vince left us on November 12, 2012. His spirit continues to reside here at the sunset end of Beach Avenue. His license plate was "June 6".