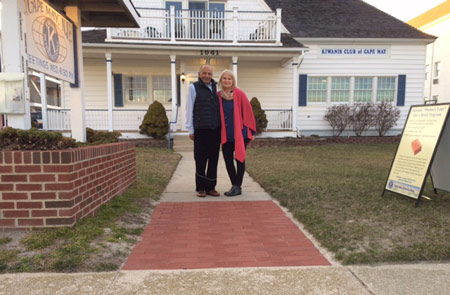 Phase 1 Brick Installation
Lenny Wilmore, Brick Program Chairperson and Kim Ford, President
Honor or remember a loved one, a special person, or your hero...
Contact Us For More Information (Proceeds Benefit Kiwanis Programs)
Have your memories etched in stone...
Did you ever write your name or the name of a loved one in the sand on the beach, only to have the ocean wash it away...now you can have a lasting memory at the beach by purchasing a brick on Kiwanis Memory Lane.
Remember a special occasion...
* A wedding or engagement * The birth of a child
* An anniversary or birthday * A family reunion
Celebrate your love...
* Jack & Jill Forever 2013
* We Love Cape May - The Smith Family
* Bless Our Children - Mom & Dad Smith
* God Bless The U.S.A. - Capt. John Smith