Weekly: Cape May County Technical High School, Lower Regional High School
Key Club International, the oldest and largest service leadership organization for teens, teaches leadership through service to others. Key Club's 267,000 members build themselves as they build their schools and communities. Key Club's 5,000 clubs thrive in 30 nations in North America, the Caribbean, Central and South America, Europe, Asia and Australia. By performing more than 12 million service hours each year, Key Club members make a difference in their communities and the world, organizing a variety of service projects, such as cleaning up parks, collecting clothing and organizing food drives. They also learn leadership skills by running meetings, planning projects and holding elected leadership positions at the club, district and international levels. Key Club encourages volunteering and fundraising. Key Club members are currently raising funds for The Eliminate Project, a joint effort of the Kiwanis family and UNICEF to eliminate maternal and neonatal tetanus from the face of the Earth.
St. Baldrick's Event at LCMR - Brave a Shave for Kids with Cancer

March 17, 2017: The Lower Cape May Regional Key Club, joined by the Cape Technical Key Club, Teitelman Builders Club and Atlantic Cape Community College Circle K, raised money and awareness during this event for St. Baldrick's Foundation. Learn More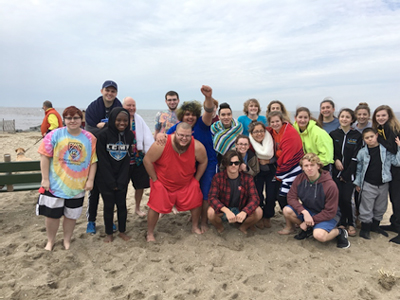 2017 Key Club Annual Polar Bear Plunge at Sunset Beach
The water temperature was a balmy 39 degrees with overhead clouds, a perfect day for a dip in the Delaware Bay. The Lower Regional Key Club held their Annual Polar Bear Plunge. Joining them in the plunge were members from the Cape Technical Key Club, Atlantic Cape Community College Circle K, and the Teitelman Builders Club. Twenty students joined one brave Kiwanis Member, Larry Notch, to plunge into the bay.
The event was held to collect funds for Hunger for New Jersey. The Kiwanis club members raised $250 to support the event. Chris Vitale, Key club advisor at Lower Regional had a car trunk full of canned goods given that day and over $400 was collected for the Hunger in NJ program.